Stacy's Simply Sugar Scrubs
What is a Sugar Scrub?
---
S tacy's
Simply Sugar
Scrubs
---
Stacy's Simply Sugar Scrubs are a soap-based product that can be used on hands and body for gentle exfoliation of dead skin cells during daily cleansing, leaving your skin feeling soft and refreshed.

Other salt and sugar scrubs use an oil base, which can leave an oily residue on hands and body. Stacy's Simply Sugar Scrubs are gentle enough for daily repeated use, such as washing hands and bathing.

The light scent is just enough to leave a hint of fragrance, but not heavy or overbearing to interfer with your perfumes or colognes.

With a variety of fragrances, Stacy's Simply Sugar Scrubs are suitable for both men and women and gentle enough to use on children.

Also available . . . Body Butter!

Body Butter is a heavy concentrated type of lotion and is a great accompaniment you can use after your sugar scrub experience to lock in that smooth fresh feeling! Great on hands and body.
"20 Second Pampering is Only A Sugar Scrub Away!"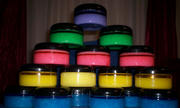 Daily Indulgence & Pampering Has Never Been Easier & Affordable!
Stacy's Simply Sugar Scrubs are great for gift giving year round and can be shipped out-of-state. If you would like to place a large order, please contact me directly so arrangements can be made to your specifications and special needs. Some fragrances may be seasonable and unavailable or limited. Please call or email any questions you may have.